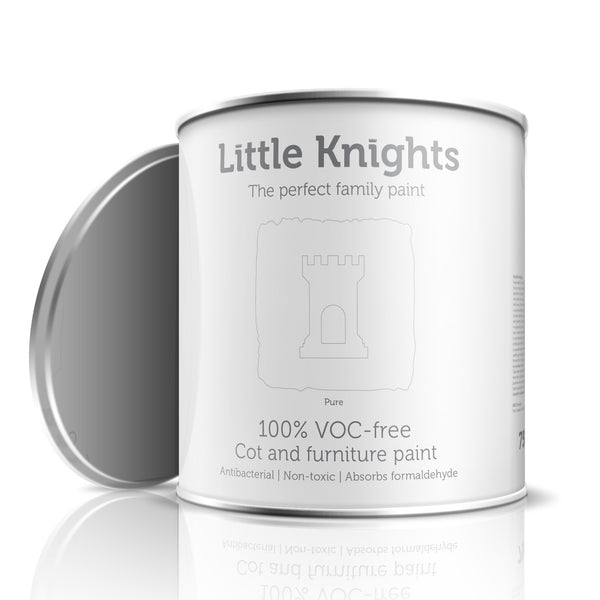 Pure - Furniture paint - 100ml Sample Tin
Excellent paint
It goes on really nice. Just what we were after.
Lovely paint
Great paint, low odour, easy to apply and lovely finish
A paint brand with a difference
I can't recommend this paint brand enough! I painted my baby's cot and he could sleep in it that same day without the toxic smell that hangs around for days! Worth every penny. If you're unsure about colour shade phone customer service they're really helpful especially Jackie, she's absolutely brilliant! 100 percent of the time she'll be able to gage the colour that you're after.
Brilliant coverage, colour and literally no smell!
We ordered the furniture and cot paint tester in pure and cotton flower. We tested them both on an inconspicuous part of the cot without sanding the surface and the coverage was brilliant. We will be ordering the cotton flower as its a little subtler than the pure white.
We also ordered 2 x Grey's (manor grey and constable clouds) to see the comparison for the walls. I'm glad we did as the one we went for was actually the lighter one when we had expected to go for the darker one. They are both lovely true Grey's and don't have the slight brown tinge we have on our laptop screen. Overall very happy!
Cot & furniture paint.....perfect
I use the cot & furniture paint on door and stair gates and it's so important to me the product is safe to use and the finish is perfect. The paint goes on like a dream and is really durable. The colour range is impressive too! Thank you!
Amazing paint
I'm very impressed with the quality of this paint. I bought both the furniture paint and the normal paint for walls and ceilings and I'm extremely happy with the result. I was looking for a paint with no smell and in nice colours and Little Knights tick all the boxes! I will definitely buy from this company again when it's the time to redecorate the living room (very soon ;-))